BC/DR Policy
Business continuity and Disaster Recovery review guide. This guide will target every major area in business for an in-depth guide to assembling an effective BC/DR policy with team members and procedures.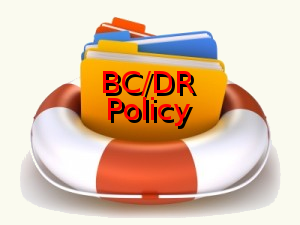 Base price for variant
$329.99
Sales price without tax
$329.99
Description
Need assistance with designing a BC/DR plan? Or, do you have a plan but don't know if it's qualifications are sufficient enough to get you through a disaster, breach or other impact to your business? The Business Continuity and Disaster Recovery Policy Guide by Network Defense Solutions, Inc. Aims to remedy all these issues, burdens and worries you may have. Our documentation will take you through each segment of the BC/DR process and outline key aspects of what you need to know, and what you may need to implement. You can also utilize our guide as a stepping stone to create your own or better your current policies and procedures. Because we understand there is no one size fits all in BC/DR planning we have encompassed everything you need to make the right choices for your business. As with all our literature this, too has a free upgrade each time our material changes.
U.S. Customers if you would like to order by phone please call:
347-586-9386
Reviews
There are yet no reviews for this product.